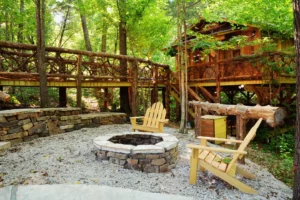 The 87Getaway Treehouse Retreat is perfect for those who want to get back to nature. Outside, trees grow through the structure for an added ambience.
While you're not sleeping in or exploring all that mountain view has to offer, relax by using the jacuzzi tub, taking in some nature outside on the porch swing and rocking chairs, or go downstairs and relax on the hammock while listening to some tunes on the sound
Frannie's Yesterdaz Music Hall offers Mountain View an awesome variety of local and out of town musicians. This great venue is located at 224 W. Main Street. in the beautiful historic Mountain View. You'll hear family friendly blues, jazz, folk, country, gospel and maybe even a few surprises. Free Admission | Donations appreciated!
Please ask about renting this great venue on Main Street Mountain View for your event or music show.
Check out our Friday Show with Charles and Katherine Fruggia. Click Here!